KINKAJOU
/ˈkiNGkəˌjo͞o/
noun: kinkajou
plural noun: kinkajous
What is a Kinkajou?
---
Kinkajous (Potosflavus) also known as "Honey Bears" are nocturnal, arboreal and have prehensile tails.They are mammals native to the tropical rain forests of Central and South America. Although they resemble and sometimes act like monkeys they are not related to primates. They are actually related to the Raccoon, Coatimundi, Red Panda, Ringtail Cats, and other animals in the Procyonidae family. Adult Kinkajous can weigh between 3 and 8 lbs. Their life span can be up to 28 years in captivity.
Kingdom: Animalia
Phylum: Chordata
Class: Mammalia
Order: Carnivora
Suborder: Prosimiae
Family: Procyonidae
Genus: Geoffroy Saint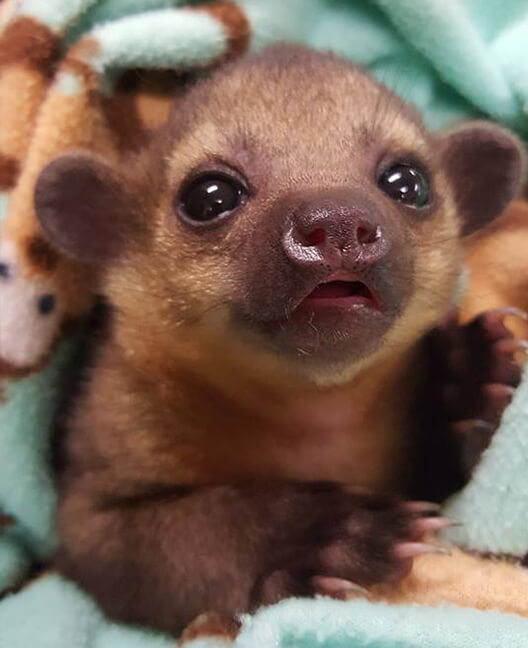 Interested in purchasing a Kinkajou?
Please fill out our availability form and we will contact you directly.
CHECK AVAILABILITY
Common questions about Kinkajous
---
Yes, unless you live in a state, county, or city that prohibits this animal or has a general exotics ban. To find out you must first check with your state fish and game agency. If they are not prohibited in your state, check with your local animal control to find out if your county has a restriction. Make sure when checking that you know in advance if you live inside or outside city limits that could make a difference. Do not be surprised if nobody knows what a kinkajou is. Be prepared and have your facts ready to explain the family and species. Please also check before calling us to get one. That will be the first question I ask you when you call. If you live in an apartment or other rental property, check with your landlord. Remember, any rental property can have property owners, maintenance and office personnel entering your home with or without notice and you can place your animal at risk of being let loose or have unauthorized hands and fingers poking at your baby. That never ends well. If your baby scratches or bites a stranger whether you had any control over the situation or not. They often take your kinkajou away and kill it to test for rabies whether you have shots or not. This can cost you your rights to own anything exotic in your county forever.
---
Kinkajou Photo Gallery
---