WHITE-NOSED COATI
/koʊˌɑːtᵻˈmʌndi/
noun: white-nosed coati
plural: white-nosed coatis
What is a White-Nosed Coati?
---
The white-nosed coati (Nasuanarica), also known as coatimundi/koʊˌɑːtɨˈmʌndi/, is a species of coati and a member of the family Procyonidae . On average most weigh between 8 and 20 lbs. Males are larger. On average, the total length is about 3 ½ ft., about half of that being the tail length. A proper tail should make the sign of a question mark when coatis are active, playful and curious. In the USA, the white-nosed coati (Nasuanarica) is mainly found in the southeastern and southwestern corners of Arizona and New Mexico, and in parts of Texas. Relatives of the raccoon, the size of a big housecat, coatis have long tails, long noses and faces masked in white and black. They live in matriarchal bands of up to 40 animals and speak a language of grunts, chitters and churps. Babies make peeping sounds like baby birds. Another wonderful thing about them is they almost no odor or smell in their fur.
Kingdom: Animalia
Phylum: Chordata
Class: Mammalia
Order: Carnivora
Family: Procyonidae
Genus: Nasuella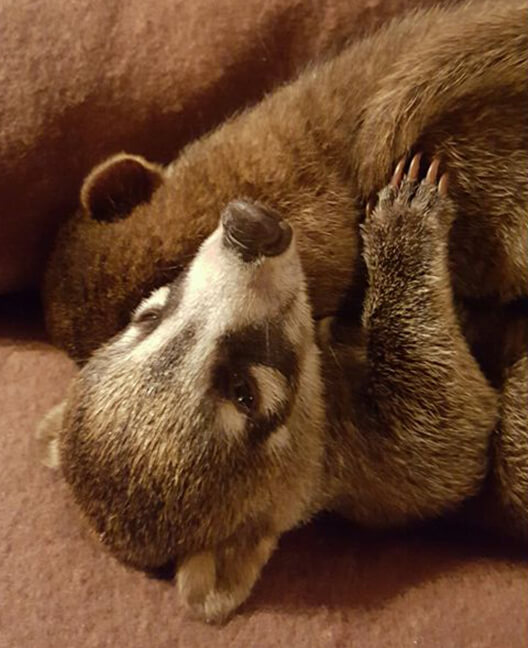 Interested in purchasing a White-Nosed Coati?
Please fill out our availability form and we will contact you directly.
CHECK AVAILABILITY
Information for Texas Residents
---
The White-nosed coati is protected by Texas Parks and Wildlife. To legally keep one for a pet, you must purchase ONLY from a Texas Parks and Wildlife permitted breeder. This includes all colors variations and those hybrid mountain white-nosed coatis mixed. Texas Exotic Animals is one of the very few legal, permitted active breeders in Texas. You will receive proper documents when you purchase your baby from us. While the state of Texas is fine with people owning white-nosed coatis with proper paperwork, possession of an undocumented white-nosed coati can result in hefty fines as well as state-seizure and loss of any or all animals on your property.
Common questions about White-Nosed Coatis
---
What kind of house do you want for your Coati?
---
Let me start by saying this is one of those controversial topics. I am going to tell you what type of enclosures my Coatis live in and why. I will mention several options. One very important thing to remember is that not all situations are suitable for every home. You must consider when choosing an enclosure to consider things like your experience raising Coatis and available space and safety for your coati inside and outside. I will try and give you the pros and cons of both and many different situations. I am writing this as a guide, not the only solutions. Every home is different. Safety first is always my number one rule.
This means no cage. Let me just say this; a Coati is not a house cat or a puppy. Left to their own devices they are smart enough and strong enough to open refrigerator doors, cabinets, jars, pill bottles, and cleaners they may find under your sink. Coatis love to rub soaps and other scented chemicals on their tails. If you are a first time Coati owner, please consider that this is not a safe option for you. I know some very experienced Coati owners that do this successfully. They know their Coati's behaviors and they have special adaptions built into their homes and safe areas (acreage) for their Coatis to roam. Warm temperatures must be provided so you will still have to provide shelter in the winter. I have been to some of these homes and it's heavenly. It is true most of the time Coatis don't roam too far from home. This is not always the case. I personally have had the unpleasant task of reading the heartbreaking, sobbing emails from people who have lost their Coatis due to wildlife or feral cat and dog attacks. These people were/are good coati owners. Things like this just happen. No regular fencing can hold a wandering Coati either. They are excellent climbers and can wander off, get lost or stolen or, worse, killed by a scared neighbor. These things really happen and in my opinion it is not worth the risk for me personally.
If you want just one (good luck on that as they become addicting). I have never had only one Coati so I don't talk from experience, but this is a safe option in my opinion. Keep them in a large macaw cage or one of those extra-large Great Dane cages if you are on a budget. The large macaw cages run an average of $400 to $700. This will allow the Coati to climb up and you can install a hammock for them to sleep in. I also recommend installing wire shelves, not wood or anything solid. Shelves will allow your Coati some exercise and any excrement to fall to the bottom of the cage. Make sure to get a cage with a tall wire grate on the bottom. Coatis get bored or try to retrieve fallen food items and will rip the poo papers from the bottom tray ( messy). You can raise the bottom of any cage by zip tying wire shelf racks cut to fit the cage floor.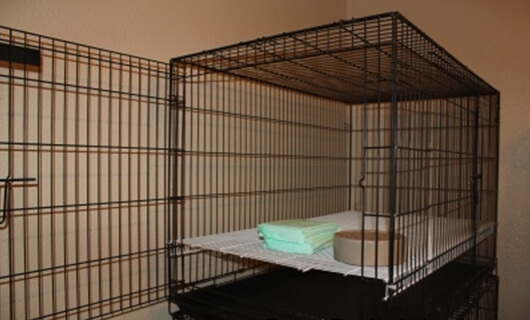 This brings me to the Great Dane sized dog cage. This cage costs between $90 and $125. However, you will be sorry if you do not install a raised wire grate on the floor of it. These are good options for inside coati enclosures. One thing to keep in mind; Coatis need lots of playtime outside their cage. A coati is not a hamster! If you work long hours away from home, get a larger cage and two Coatis!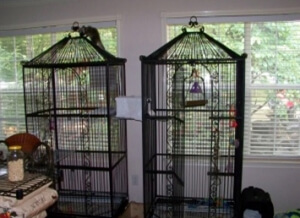 This is how it all began for us! After our little bottle babies grew enough to climb and run. We bought two nice but second-hand matching Macaw cages. My crafty other half made a pass through tunnel and connected the two cages together. This is a wonderful idea for one or two coatis. It really gives them plenty of play room and the best part…..We put a closing shift-door on the tunnel. This allowed us to do a quick clean or feed without letting our little imps out on the loose while we did our clean up. It comes in handy! Trust me, they will try to "help" you with any project you do, so a two minute clean up or feed can end up an hour-long project. Again; install some wire shelves and a few toys and you won't feel guilty going to work or leaving your babies alone for a few hours.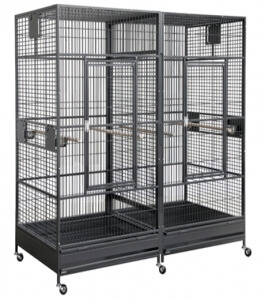 Now that you have become one of us, welcome to the fanatical Coati-owners family! You must say to yourself "I am a Coati addict" and own it… work with it. Don't let me see you on one of those animal hoarding shows…All jokes aside; you will probably be looking at building custom enclosures. If you are not "Handy Dan" or a welder, let me recommend this cage. I currently own a few of them. It is called the Big Kahuna! It is manufactured by A&E Cage Co.. Many distributors sell them. Price ranges from $800 to $900 depending on who is having a sale. This is a very large cage, made for inside use and you need space. It has a built-in divider wall that is removable and trap doors you can build off of. This cage is too tall and wide to get through most doors assembled. Seriously, assemble it in the room you want it to live in. It has lots of space to install shelves and other toys, and even a swing and hammock.That is wonderful for the Coatis but makes clean-up a little more work. It cost more but, if you can afford it, get the stainless steel version. Up to four Coatis can live comfortable in this with added playtime outside.
You have many options here. Whether you want to build something permanent or for playtime you can really get creative.
A wonderful playtime playpen can be made out of a simple 10ft. x 10ft. dog kennel found at many home improvement stores. These are priced under $200 and come with four walls and a door. You need to add a few things to make this Coati-proof. First the floor; put in a cement foundation with a drain or I recommend scraping away the first inch or two of dirt in a 12ft x 12ft. area. Next, lay hardware cloth around at least 2ft inside and outside the border of the cage. Fill the dirt back in over the top of the wire. This keeps your Coati from digging out and a predator from digging in. Second put the kennel together as per the instructions in the box. Last of all, you need a roof. The simplest thing to do is get a good quality fence wire (don't cheap out) or chain link fencing and attach it. Other options are building a vaulted A-frame with metal pipes and attaching the wire to that. Adding a roof cover is recommended as they need somewhere to get out of the heat and rain just in case. When adding your roof you want to make sure it is secure enough to hold whatever toys, swings or hammocks you add, plus the weight of your Coati. Coatis love to climb and will climb all over this playpen.
A permanent enclosure outside is awesome to have! I can't tell you how much we enjoy spending and sharing quality time with our Coati kids in their very own house. You will make more of an investment in this. I promise you, if you do this correctly without cutting too many corners you will easily spend thousands. If you're Handy Dan you will save a lot of money. I am not. This is a custom enclosure and you will need to design your own. I will tell you what you need to make sure your Coati is safe and comfortable. This is where the fun begins. Go wild and make this a place you can have plenty of room to spend lots of time with your Coatis in. Hopefully by now you have at least two Coatis, or one very spoiled little Coati kid. Please make sure, when building this enclosure, that you have incorporated an indoor enclosure house that is insulated and has two door/room compartments. You will want this because you will need a space to store supplies and the double door will act as a safety net so you can enter and leave without having to round up a playful little escape artist. You will also, most importantly, need to install a heater so that you can regulate your Coati's environment. Coatis don't really like it when the temps drop below sixty. They cannot and should not be forced to live below 60 degrees although they can tolerate the mid to high fifties for short amounts of time. They can lose their tails in cold weather. This is no joke. Coatis come from warm climates and don't like the cold… not one bit! A Coati is not an Eskimo! Extra care should be taken to make sure that a bored Coati cannot reach your heater. They will play with the heater and you will probably come home to a dead Coati. That is another reason why you have two rooms; one that separates the entrance to your building from the Coatis. Next, you need plumbing. If you don't want to be cleaning up a lot of substrate you will want a cement floor with a drain and plenty of pitch to it so the water runs into the drain easily. Again like the playpen, you will need some form of roof on the outdoor playpen addition to the Coati house. This can be made from any type of roofing material. Coatis need protection from the weather and shade. You need a safe area to put outdoor fans during really hot days. Inside your building entrance room you will need a fan also. This is another reason to have double doors; during the summer you can leave the outside door open for maximum air flow if you have a good inside kennel door separating the rooms. I installed a mister outside on one side during the 2011 Texas heat wave to cool them down in addition to their swimming pool. Refer to my photographs below. I think you can get the idea from that.




White-Nosed Coati Photo Gallery
---